Recipe
Tropical Delight: Ultimate Coconut Cream Pie Recipe
When it comes to pies, there's a vast variety out there to tantalize your taste buds. But if you want a truly exotic experience that whisks you away to a tropical paradise, then the Coconut Cream Pie is your ticket to culinary nirvana. Today, I'm going to share with you the ultimate recipe for the most delectable Coconut Cream Pie you'll ever taste. This isn't just a recipe; it's an experience!
The Secrets Behind Perfect Coconut Cream Pie
Every chef or home baker has a few tricks up their sleeve that can elevate a dish from good to absolutely amazing. Here are some secrets behind crafting the perfect Coconut Cream Pie:
Quality Ingredients: Always use fresh half-and-half and genuine vanilla extract. The taste difference is unmistakable.
Perfectly Toasted Coconut: The secret lies in toasting the coconut flakes just right – golden, not brown or burnt. This adds a rich, nutty aroma and a crispy texture.
Patience: Let the pie set in the refrigerator for the recommended time. It allows the flavors to meld together and intensifies the taste.
Key Details:
Prep Time: 20 minutes
Cook Time: 30 minutes
Total Time: 50 minutes (plus cooling)
Servings: 8
Ingredients:
1 cup sweetened flaked coconut
3 cups half-and-half
¾ cup white sugar
½ cup all-purpose flour
2 large eggs, beaten
¼ teaspoon salt
1 teaspoon vanilla extract
1 (9 inch) pie shell, baked

1 cup frozen whipped topping, thawed
Instructions:
Toast the Coconut Flakes: In a skillet over medium heat, toast the flaked coconut, stirring constantly until golden brown. Set aside to cool.
Mix the Base: In a saucepan, combine half-and-half, eggs, sugar, flour, and salt. Whisk together and bring the mixture to a boil over medium-low heat. Remember to stir continuously to prevent sticking or burning.

Add Coconut and Vanilla: Once your mixture has thickened (this should take about 10 minutes), remove from heat. Stir in ¾ of the toasted coconut and the vanilla extract.
Fill the Pie Shell: Pour the thickened mixture into your baked pie shell. Allow it to cool slightly on the counter before refrigerating.
Chill: Chill in the refrigerator for 2-4 hours, or until set.

Final Touches: Top your pie with the thawed whipped topping. Sprinkle the remaining toasted coconut on top for garnish.
Serve and Relish: Slice up your pie, serve, and watch the slices disappear!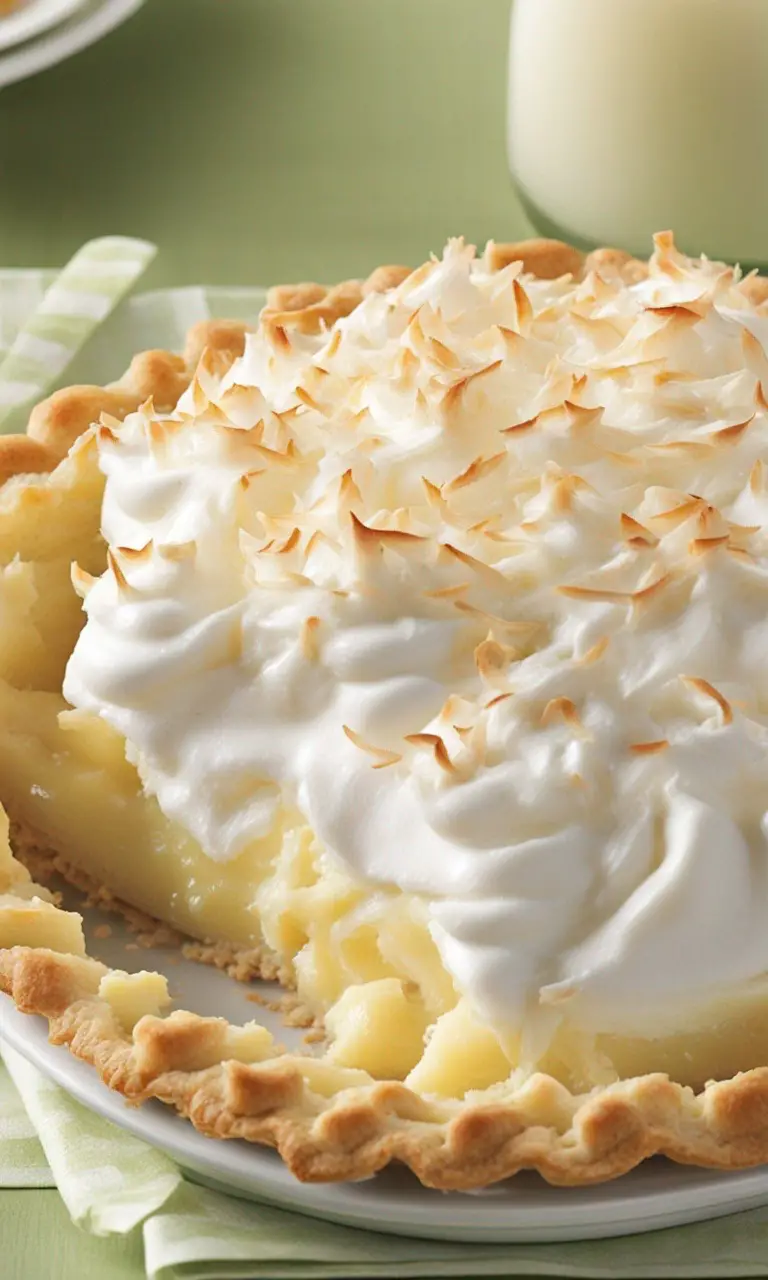 Expert Tips:
Golden Rule of Coconut: Ensure the coconut is golden brown, not burnt. The toasted flavor will elevate your pie, but burnt coconut can ruin the taste.
Perfect Consistency: The filling should be thick like a pudding before you pour it into the pie shell. If it's too thin, continue cooking for a couple of extra minutes.
Variation: For an added twist, you can mix in a few chocolate shavings with the coconut. The blend of coconut and chocolate will give your pie an extra layer of flavor.\
Serving Suggestions
Serve the pie with a side of fresh tropical fruits like pineapple, mango, or kiwi.
Drizzle with a light caramel or chocolate sauce for an extra layer of flavor.
A scoop of vanilla or coconut ice cream on the side takes this dessert to the next level.
Frequently Asked Questions (FAQs)
Can I use coconut milk instead of half-and-half? Yes, coconut milk can give a stronger coconut flavor. However, it may alter the texture slightly.
How long can I store the pie? Ideally, consume within 2-3 days for the best flavor and freshness.
Can this recipe be made vegan? Absolutely. Swap the half-and-half with coconut milk and use a vegan pie crust.
With this Coconut Cream Pie recipe, you're not just preparing a dessert; you're crafting a tropical experience. Each bite will transport you to a beach where the waves kiss the shores, and coconut trees sway with the breeze. So the next time you want to impress your guests or just indulge yourself, you know the pie to bake!
Credit: 1krecipes