Recipe
No Bake Magic Chocolate Oat Bars: The Perfect Recipe for a Scrumptious, Healthy Indulgence!
Do you have a sweet tooth but dread turning on your oven during hot summer months? Or maybe you're an ambitious, yet time-strapped individual looking for a quick, delightful treat to enjoy at home or on the go? If you're nodding along, then today's post is definitely for you! We're diving into the world of No Bake Magic Chocolate Oat Bars. This delicious, quick, and easy recipe will have you savoring the perfect blend of oats, chocolate, and natural sweeteners without breaking a sweat!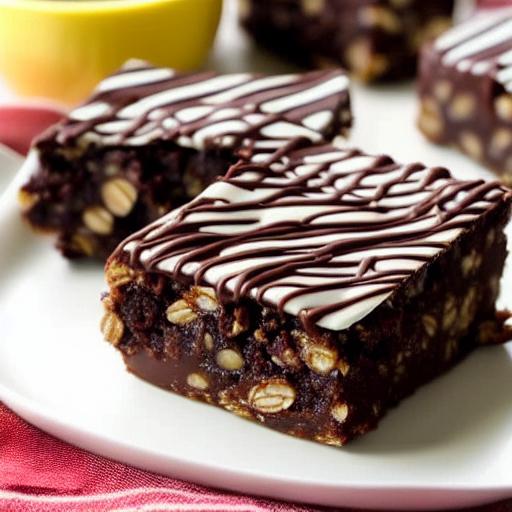 Now, let's delve into the recipe. But before we start, remember to keep an eye on the keywords sprinkled throughout this post. They'll guide you through every step and make sure you're on track!
Ingredients: What Goes into the Magic?
First things first, here's what you'll need to make these luscious No Bake Magic Chocolate Oat Bars:
2 cups of quick oats (use gluten-free if necessary)
1 cup of natural peanut butter (or substitute with almond butter)
1/2 cup of honey or maple syrup (for a vegan option)
1 cup of semi-sweet chocolate chips (use dairy-free for a vegan option)
1/4 cup of unsweetened almond milk
1/2 teaspoon of pure vanilla extract
A pinch of sea salt
Optional: 1/2 cup of crushed nuts or dried fruit for topping
Method: Let's Get Started!
Now that we've assembled all our ingredients, let's move on to the easy-to-follow steps for creating your very own No Bake Magic Chocolate Oat Bars:
Mix the Base: In a large bowl, combine the oats, peanut butter, and honey or maple syrup. Stir until well combined. This mixture forms the base of your oat bars. If it seems too dry, add a bit more sweetener; too wet, and you can balance it with a few more oats.
Prepare the Pan: Line an 8×8 inch square baking pan with parchment paper, allowing the paper to overhang for easy removal. Press the oat mixture evenly into the pan.
Melt the Chocolate: In a microwave-safe bowl, combine the chocolate chips and almond milk. Microwave in 30-second increments, stirring after each until the mixture is smooth and well combined. Stir in the vanilla extract and a pinch of sea salt.
Layer it Up: Pour the melted chocolate over the oat mixture in the pan, spreading it evenly with a spatula. If you're using any additional toppings like crushed nuts or dried fruit, sprinkle them on top now.
Chill Out: Place the pan in the refrigerator for at least 2-3 hours, or until the bars are firm.
Serve and Enjoy: Once chilled, lift the parchment paper to remove the bars from the pan. Cut into squares and enjoy your No Bake Magic Chocolate Oat Bars!
Handy Tips for Perfect No Bake Magic Chocolate Oat Bars
Creating these chocolate oat bars is simple, but a few tips can help you reach the epitome of 'no-bake' perfection!
Quality Matters: Choose high-quality ingredients. The taste of your oat bars largely depends on the flavor of your oats, nut butter, and chocolate. Opt for organic, unsweetened, and unprocessed varieties whenever possible.
Texture Tricks: If you prefer a crunchier texture, you can toast the oats in a dry pan over medium heat for 3-5 minutes before mixing
with the other ingredients. Just be sure to let them cool before you move to the next step.
Sweetness Scale: Adjust the sweetness based on your preference. If you like your treats less sweet, you can reduce the amount of honey or maple syrup. For those with a sweeter tooth, feel free to increase the sweetener or choose a sweeter chocolate.
Dietary Preferences: This recipe is easily adaptable. You can make it gluten-free by using gluten-free oats, vegan by using maple syrup and dairy-free chocolate, or nut-free by substituting sunflower seed butter for the peanut butter.
Storage Savvy: These bars keep well in an airtight container in the refrigerator for up to one week. You can also freeze them for up to 3 months. Just be sure to separate layers with parchment paper to prevent sticking.
Nutritional Insight: How Healthy Are These No Bake Magic Chocolate Oat Bars?
You might be wondering, "Are these No Bake Magic Chocolate Oat Bars actually healthy?" Let's break down the nutritional content of these scrumptious bars to understand their benefits better.
Oats: Oats are a powerhouse of fiber, especially beta-glucan, which can reduce cholesterol and blood sugar levels. They're also packed with important vitamins, minerals, and antioxidants.
Peanut Butter: Natural peanut butter is an excellent source of protein and healthy fats. It's also rich in vitamins E and B3, along with minerals like magnesium, potassium, and zinc.
Honey/Maple Syrup: Both honey and maple syrup are healthier alternatives to refined sugar. They contain trace amounts of vitamins and minerals and have a lower glycemic index, which means they won't spike your blood sugar levels as quickly.
Dark Chocolate: Dark chocolate is rich in fiber, iron, magnesium, and several other minerals. It's also loaded with antioxidants and can contribute to heart health.
Remember, though these oat bars are healthy, they are still high in calories and should be consumed in moderation. The key is balance!
The Magic of No-Bake Recipes
No-bake recipes like these Magic Chocolate Oat Bars are a testament to the fact that cooking can be simple, healthy, and utterly delicious without spending hours in the kitchen. No-bake recipes are perfect for beginners and seasoned cooks alike. They're versatile, forgiving, and always ready to cater to your dietary needs and preferences.
Sharing the No-Bake Love
Loved this recipe? Don't keep it to yourself! Share this blog post with your friends, family, or anyone else who appreciates a good treat. Spread the love on social media using our hashtag #NoBakeMagic. Remember, cooking is all about sharing and enjoying the process. So go ahead, take your tastebuds on this magical culinary journey, and let others join in the fun!
Finally, we hope you enjoyed our deep dive into the No Bake Magic Chocolate Oat Bars. We can't wait to see your delicious creations and hear about your unique adaptations. Stay tuned for more such exciting, simple, and flavorful recipes.
Enjoy Your No Bake Magic Chocolate Oat Bars
Making these No Bake Magic Chocolate Oat Bars is not just easy, it's fun too! Whether you're planning a picnic, searching for a quick breakfast, or just desiring a healthy, satisfying treat, these oat bars are your perfect companion. Now that you're equipped with this recipe, we encourage you to step into your kitchen and let the magic unfold!
Thank you for stopping by today. If you tried our No Bake Magic Chocolate Oat Bars, don't forget to leave a comment below and share your experience. We'd love to hear how they turned out!
So, until our next delicious encounter, happy no-baking, dear reader!
Credit: 1krecipes